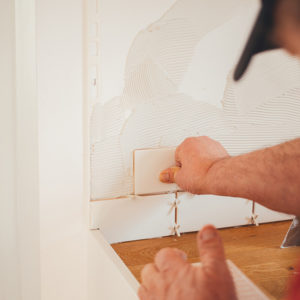 Whether you need reliable indoor or outdoor home repair services, from plastering and painting to bricklaying and garden upkeep, no job is too big or too small for the expert team at MMD. Organising home maintenance doesn't have to be a headache. Whether you need one tradesperson or an army of specialists, MMD has you covered. MMD ensures you get the best service and parts for your home by leveraging our network of highly experienced tradespeople and sub-contractors to deliver a comprehensive range of services for our clients.
Whether you need an appliance repaired, a lock fixed, rubbish removed or lighting installed, call our experienced team for efficient and reliable service throughout the Bellarine Peninsula, Geelong, and Colac.
Fully qualified & insured trades
As a premier property management and property maintenance service provider, MMD uses only fully qualified and insured tradespeople for your commercial property and home maintenance needs. Let us supply and coordinate quality tradespeople to get your small plaster repair, garden trimmed, or kitchen renovation completed efficiently and properly. Coordinating a team of multiple qualified tradesmen to complete a job on-time and on-budget is MMD's trademark.
Emergency home maintenance services
Available 24 hours, 7 days a week, 365 days a year, MMD is your convenient and reliable choice for repairs and emergency maintenance in Geelong, Bellarine Peninsula, and Colac.
Contact Geelong's best commercial maintenance service experts
From residential emergency repairs to full-scale home renovations, our team of specialists is the only team you need to call. Request a quote or contact us to find out more about the best commercial maintenance repairs and services for Geelong, the Bellarine Peninsula, and Colac.
Property management services
If you are in the property selling, buying or management business, MMD has all your residential property maintenance, and management needs covered. Contact us to learn more about our property management services.